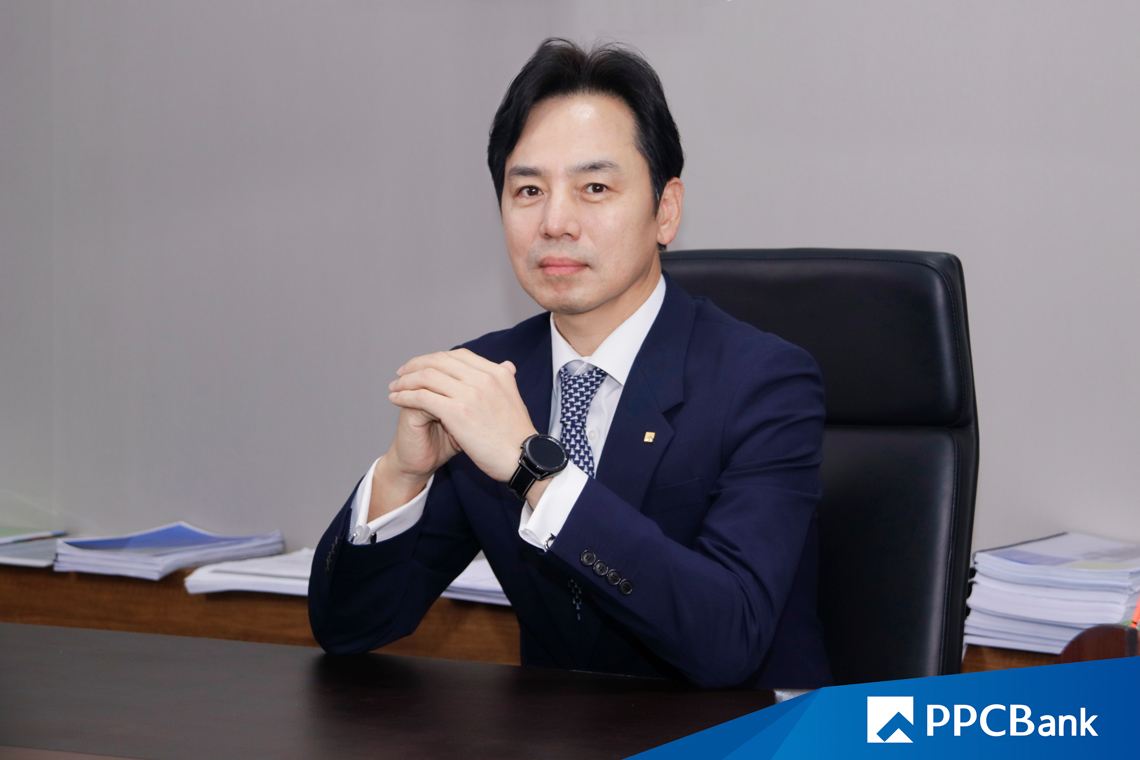 Message from the President
Hello Everyone
PPCBank has come an incredibly long way in the past 15 years. First established in Cambodia in 2008, the Bank is today one of the kingdom's leading commercial banks, having been embraced by the people of Cambodia for their financial needs while it works in-step with the National Bank of Cambodia to increase levels of financial literacy, develop a culture of savings and decrease the percentage of the unbanked in the country. This is why the past 15 years are not just the story of PPCBank, but also of the communities we serve, the colleagues we work with, the buildings in which we work and the products we are proud to offer.
PPCBank became part of the Jeonbuk Financial Group in 2016. It was a move which enabled the Bank to rapidly expand its network of branches and ATMs in Cambodia, while also being underpinned by the strength and depth of the JB Group's values. These values run in tandem with those that have forged PPCBank's vision and mission from the very beginning.
What I am very proud of is PPCBank's response to the crisis that was the Covid-19 pandemic. Across 2020 and 2021, indeed much of 2022, balance was disturbed and priorities were reevaluated around the world. Global growth slowed, economies shrank and a deep-seated anxiety settled into financial markets and those they serve. However, as a leading bank that aims to be the customer's first choice in Cambodia, with steadfast support and trust from all our shareholders, PPCBank was able to transform itself into a bank even better placed to serve its growing customer base and their evolving financial needs.
I believe that the theme of "Quantity and Quality" must drive the next mission for our banking products and services. With the unwavering commitment of our management and staff, we are looking forward to fueling and driving growth by developing a niche market while understanding the needs of our various customer groups, be they private individuals or corporates. Developing that niche market is about standing out from the crowd and I can see three main areas of focus that are already assisting PPCBank in achieving this.
Firstly, it is about knowing ourselves. We are fast and flexible when it comes to making decisions and we specialize in corporate and upwardly mobile customers. Our team of experienced bankers deliver creative, optimal and flexible banking solutions that suit the unique requirements of the customer, taking care of all their financial needs. Leveraging this knowledge will take us even further along the path to even greater success.
The second area of focus is identifying our customers' needs. Today's banking customers have high expectations when it comes to products and services. This is why we work harder to better understand their needs, to present more relevant offers at the right time, and ultimately, to increase customer retention while selling additional products and services through an ever-growing number of channels.
Thirdly, we must never lose sight of our sense of professionalism. Capacity enhancement of our people is at the heart of PPCBank's successful development. With our well-trained staff, the Bank has enough knowledge and capacity to confidently deliver for our customers.
Now more than ever, PPCBank concentrates on providing high quality products, services and technology that are best suited to the diverse needs of our customer base. We deliver these services in a way that allows our customers to bank their way, be it at a branch, on their mobile phones, through our dynamic Customer Service Center, or via live chats on our many platforms such as the PPCBank website, PPCBank Mobile App, our business solution, smartBiz, and our Facebook page.
At PPCBank, we will continue to develop and enhance our products and technology to ensure that we are giving our customers all the resources they need to reach their financial goals. This we do while earnestly protecting the security and privacy of their information. Our slogan, "EasyBanking", will also continue to inform and drive everything we do.
I would like to take this opportunity to say a heartfelt "thank you" to all our customers who have placed their trust and faith in PPCBank. In addition, I would like to extend my appreciation to every single member of the PPCBank team who continue to work tirelessly, in accordance with their respective roles and responsibilities, to deliver the very best service to our valued customers.
Thank you for choosing to do business with us. I hope you find it as easy as we strive to make it.
Mr.LEE Jin Young
President of PPCBank