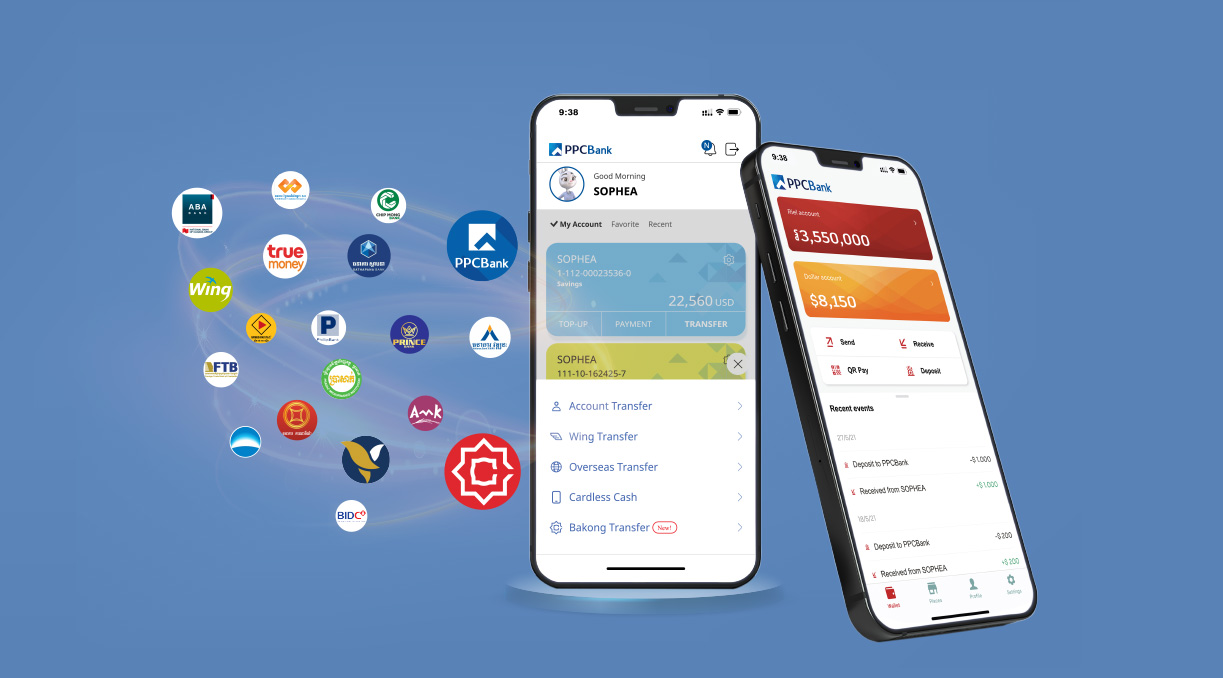 ---
Digital banking is the future for daily transactions.
With PPCBank a member of Cambodia's Bakong Payment System, clients can conduct money transfers (send and receive) via the Bakong mobile app for free. Bakong has been created by the National Bank of Cambodia. Its creation means seamless transactions between different banks, with clients also able to make QR payments at merchants free of charge.
Learn how to use the Bakong App with your PPCBank account in the sections below.
---
---
PPCBank Bakong Fee
Transaction
Amount (KHR)
Fee (KHR)
Amount (USD)
Fee (USD)
PPCBank Wallet to PPCBank Wallet
Any Amount
Free
Any Amount
Free
PPCBank Wallet to Other Bank Wallet
Any Amount
Free
Any Amount
Free
PPCBank Wallet to PPCBank Bank Account
Any Amount
Free
Any Amount
Free
PPCBank Wallet to Other Bank Account
Any Amount
Free
Any Amount
Free
PPCBank Account to PPCBank Wallet
PPCBank Account to Other Bank Wallet
≤ 400,000 KHR
Free
≤ $100
Free
≤ 2,000,000 KHR
2,000 KHR
≤ $500
$0.50
≤ 6,000,000 KHR
4,000 KHR
≤ $1,500
$1.00
≤ 10,000,000 KHR
6,000 KHR
≤ $2,500
$1.50
≤ 20,000,000 KHR
8,000 KHR
≤ $5,000
$2.00
≤ 40,000,000 KHR
10,000 KHR
≤ $10,000
$2.50
PPCBank Account to Local Bank Account
≤ 400,000 KHR
Free
≤ $100
Free
≤ 2,000,000 KHR
2,000 KHR
≤ $500
$0.50
≤ 6,000,000 KHR
4,000 KHR
≤ $1,500
$1.00
≤ 10,000,000 KHR
6,000 KHR
≤ $2,500
$1.50
≤ 20,000,000 KHR
8,000 KHR
≤ $5,000
$2.00
≤ 40,000,000 KHR
10,000 KHR
≤ $10,000
$2.50
≤ 100,000,000 KHR
12,000 KHR
≤ $25,000
$3.00
≤ 200,000,000 KHR
15,000 KHR
≤ $50,000
$3.75
* Note: there is no daily limit and fee charge on inward transaction/transfer from other bank, wallet and/or account.
* Full fund transfer via online banking is allowed up to USD 10,000 and/or 40 million KHR per transaction.
* Daily limit is cumulative on all channels( online banking,counters,and/or KHQR ) upto USD 50,000.00/KHR 200 millions