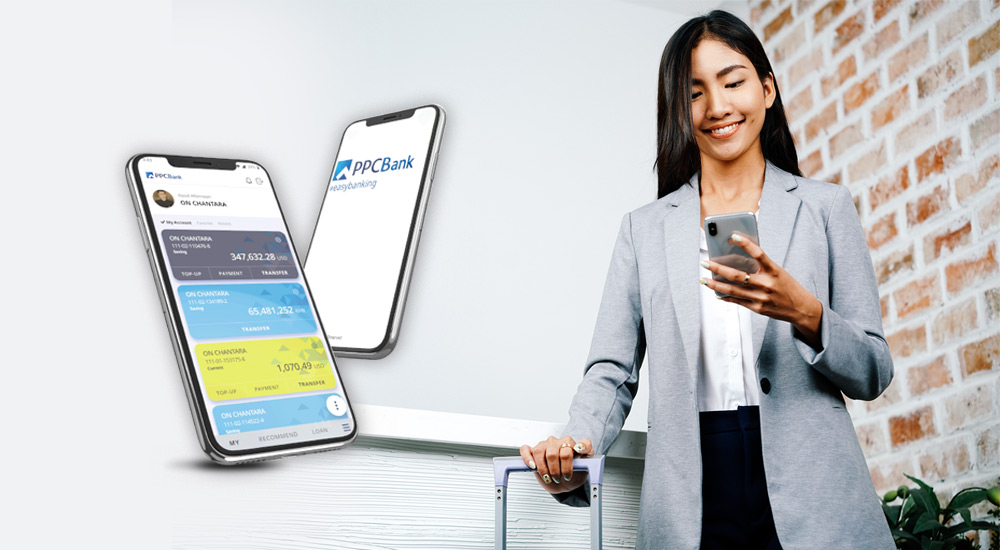 ---
Let's admit it,​​ we are connected to our phones almost 24/7. What could be better than having mobile banking app on your phone to monitor your bank account activity throughout the day? Download our application from App Store or Play Store. It's free of charge!
Our Mobile Banking App v.2.0 allows you to:
Transfer via "Cardless Cash" function to your friends and family without a bank account. They can withdraw the money from any PPCBank ATMs with the password received to their SMS phone number. Plus it's FREE of charge!

You can also use 'Cardless cash' to withdraw money from any of our ATMs if you forgot to bring your card.

​View all transaction details including loan statement in real-time

Make quick and secure cashless payment to PPCBank partner merchants by 'mobilePAY'. Keep records of all purchases on your hand

Open & close a deposit account without visiting the branch!

​Top-up your phone connected to any mobile network service provider 24/7

…

​Top-up PPCBank's partner prepaid card, PayOn and and Bongloy

Make immediate or scheduled transfer, Real-Time Fund Transfer (RFT), and FAST​ Transfer to an account of any Cambodian bank

​Make overseas transfer via SWIFT

Send money to overseas in minutes via Western Union

Apply for a loan against deposit – quick & easy solution for you to get access to more capital for your business expenses

Book your visit to any of our branches in advance for cash withdrawal, cashier order, and cheque book request

Locate PPCBank's nearest branch, ATM, and mobilePAY merchant

Enjoy the App in 5 different languages: Khmer, English, Korean, Japanese and Chinese

Make security verification with your finger print

And many more features…
Steps to start using the app
Go to App Store or Google Play Store; search for PPCBank and download the application
Select preferred language
Fill in UserID registered with the bank and a temporary password
Update your password
Enjoy the PPCBank app!
Requirements to subscribe
Must be 18 years old or older
Applicants must have personal or joint PPCBank saving or current account
Cambodian citizens: national ID card or passport
Non-Cambodians: valid passport