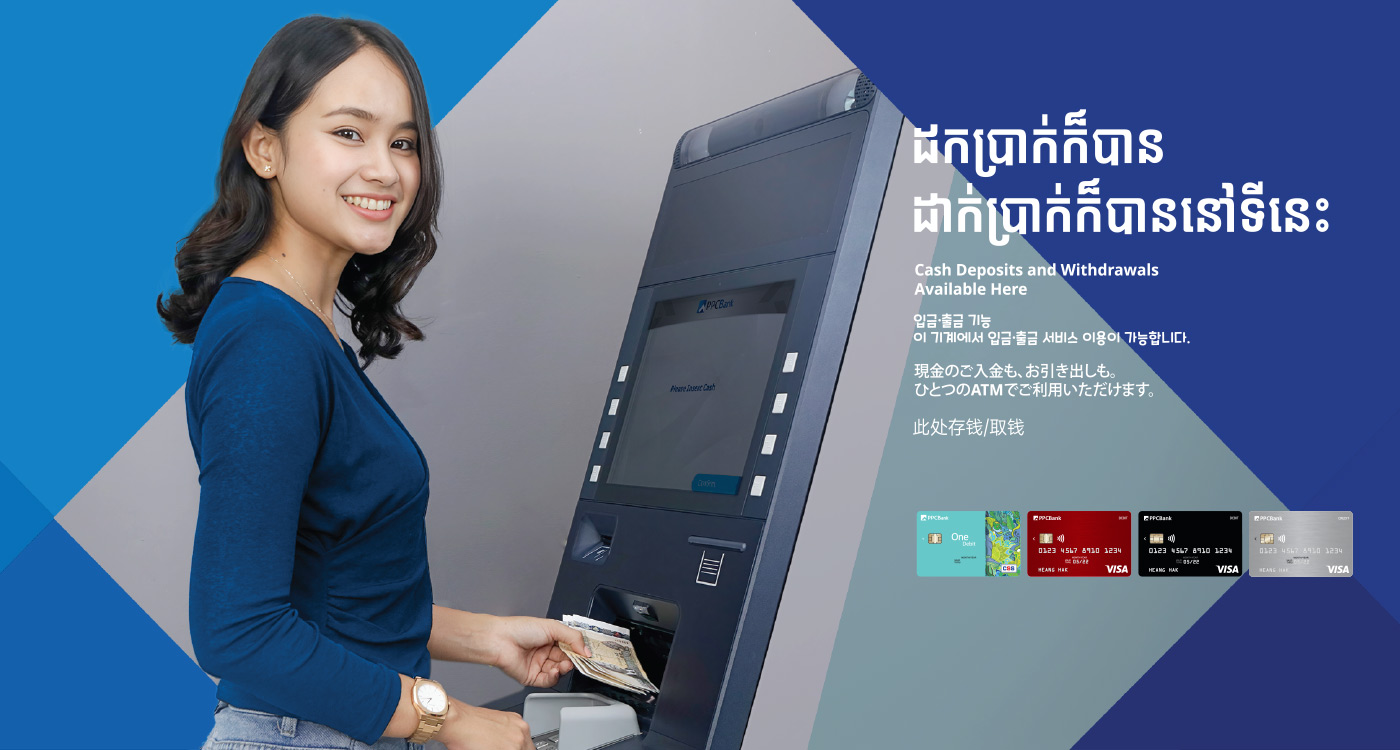 ---
Easy, Secure and Convenient
PPCBank has installed Cash in/out machines and ATMs to allow customers to operate banking services 24 hours a day and 7 days a week securely and conveniently. PPCBank currently has 72 ATMs and 2 Cash in/out machines nationwide.
---
Available Notes from ATM
KHR 20,000
KHR 50,000
KHR 100,000 (Deposit Only)
USD 50
USD 100
Cash Deposit Limit
USD 1,000 per transaction
USD 10,000 per day
Safety Tips:
Be Cautious with your surrounding: If you observe or sense suspicious persons (i.e. wearing hat or mask) do not proceed to use the ATM machine and if possible cautiously leave the area.
---
Inspect the ATM machine for possible skimming devices: Focus on suspicious foreign devices attached to the card slot and keypad.
---
Protect Your PIN at all time: Prevent others from seeing your PIN entry by using your body or hand to shield the ATM keypad.

Always take the receipt with you: OR shred it before discarding in order to not disclose your account information.

Before leaving the ATM: Be sure to take your card with you.
Withdrawal
Card Type
Per Transaction
Per Day
Fees
Remark
PPCBank's ATM Card
USD 1,000
USD 3,000
Free
PPCBank's VISA Debit Card
USD 1,000
USD 3,000
Free
PPCBank's CSS Debit Card
USD 1,000
USD 3,000
Free
Local Bank CSS Debit Card
USD 500
Free
Additional fee charges may apply by issuing bank
Local Bank Debit Card
USD 500
Free
Overseas Bank Debit Card
USD 500
USD 5 per transaction
Account Transfer
| Card Type | Per Transaction | Per Day | Fees | Remark |
| --- | --- | --- | --- | --- |
| PPCBank's ATM Card | USD 1,000 | USD 3,000 | Free | |
| PPCBank's VISA Debit Card | USD 1,000 | USD 3,000 | Free | |
| PPCBank's CSS Debit Card | USD 1,000 | USD 3,000 | Free | |
| Local Bank CSS Debit Card | USD 1,000 | | Free | Additional Fee charges may apply by issuing bank |
Cash Advance
Card Type
Per Transaction
Per Day
Fees
Remark
PPCBank's VISA Credit Card
USD 1,000
2% of the withdrawal amount (Minimum USD 5.00)
Withdrawal limit shall be subject to Credit line of individual
Local Bank Credit Card
USD 500
Free
Additional fee charges may apply by issuing bank
Overseas Bank Credit Card
USD 500
USD 5 per transaction
Cash In / Out Machine Locations
---